Review: The Complete Book of Abs by Kurt Brungardt
by Sruthan






** A sample fair-use portion of this book's workout routine is available in The Fitness Train community site.



Many people would agree that fit abs (or abbs, abdominal muscles) are central to an appearance of being in-shape and healthy. In addition to their sexy appearance, strong abs improve our safety by reducing injuries and give us a lot of power in real-world strength and balancing activities.

Kurt Brungardt's highly informative book, The Complete Book of Abs, gives you all the info you need to integrate an abdominal routine into your fitness program, and plan your work outs for the abs. While focused ultimately on abs, the scope of this book includes diet, mind-body connection in training, workout and health guidelines, and injury-prevention.



One of the most useful parts of the book is the 4 levels of six-weeks length workout programs that progress you from "The Foundation" to "Washboard" and "Ultimate" Abs. Brungardt calls this "The Complete Multi-Level System," and it helps almost like having your own personal abs trainer guide you from unconditioned to defined and cut. You have to put in the work, but the personal trainer/author is very clear in showing the way to get better abs.

The last time I undertook the "Level" program in Brungardt's book, I completed "Level 1: The Foundation," the first six-week level. I'm ready to try it again, and this time I would hope to complete at least the first three levels. This review will continue over the next few months as I blog and comment while working through this abs program.

Stay Tuned for updates:
** Jump to newest post - Wed. November 16, 2011 **
---
Mon. June 21, 2010 - Started. Day 1, Week 1 of the six-week "The Foundation" from Brungardt's Multi-Level abs workout program.

Here's a "before" pic so we can compare abs definition/cuts after a few weeks: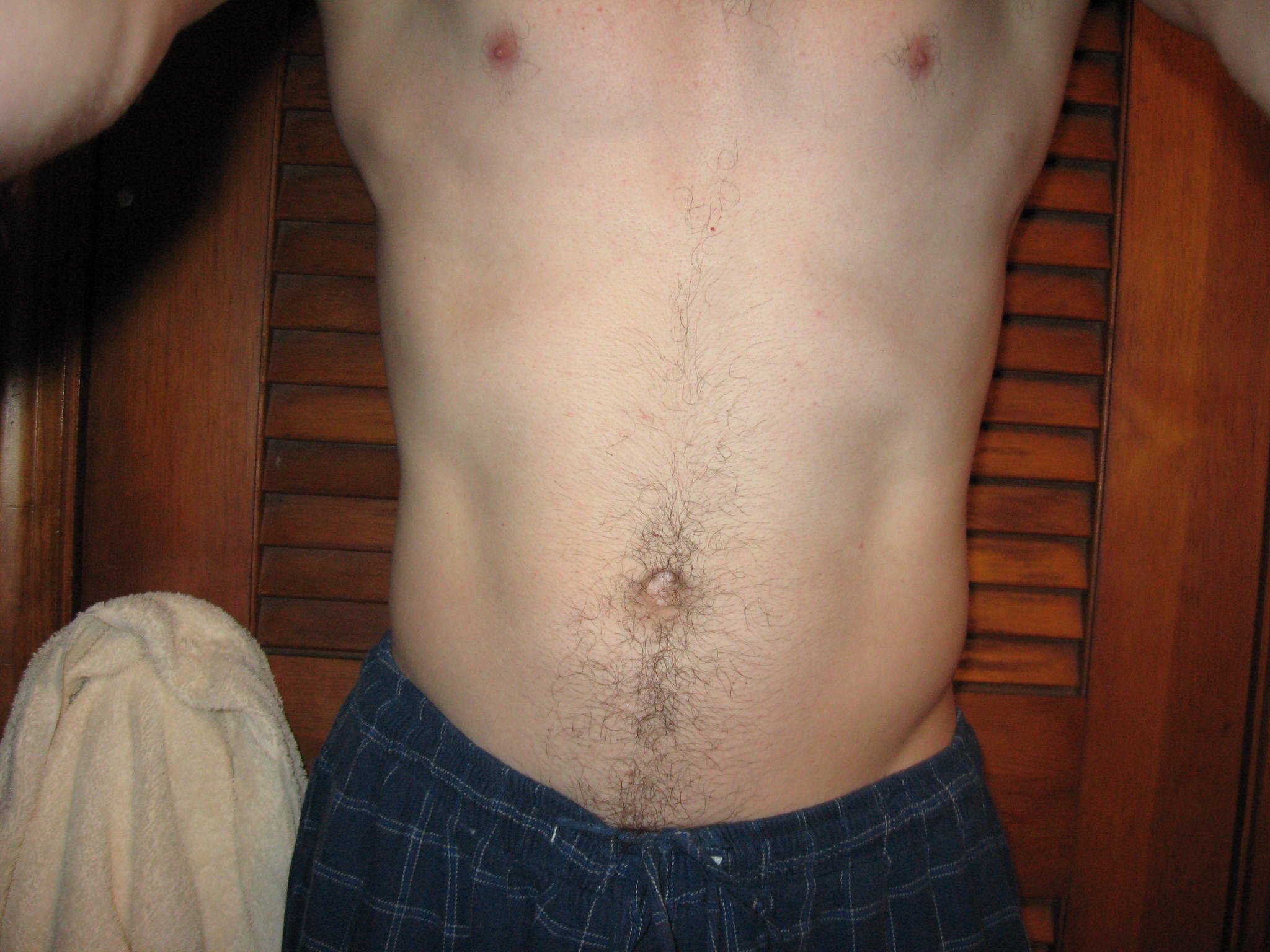 ---
Tue. June 22, 2010 - Day 2 done. I'm definitely feeling the burn. The three different exercises work several ab areas (upper and lower abs, and obliques) evenly. I woke up this morning with surprising ab soreness, but they warmed up quickly and felt pretty good for today's workout.
---
Tue. July 6, 2010 - This past 4th of July weekend, I spent a couple of days on the beach in Newport, RI. Even at this very early stage, I felt an improved flat stomach even right after food and beer, though the cuts are not showing much more yet. I'm only half way through Week 2. I'm hoping to get a visible six pack in the upcoming weeks or months. I'll keep working.

You can see all the workouts I have completed: The Fitness Train profile for Sruthan. I finished Level-1-Week-1 ten days ago and today my abs workout was Week-2-Day-2 which I have repeated a few times to try to perfect my form.

I'm going to try using my medicine ball/exercise ball to add weight and help me add strength through resistence. I think this will improve my form and effectiveness with Brungardt's routines. It feels like a great workout for lower abs to perform leg lifts holding the 8 lb. ball with bare feet: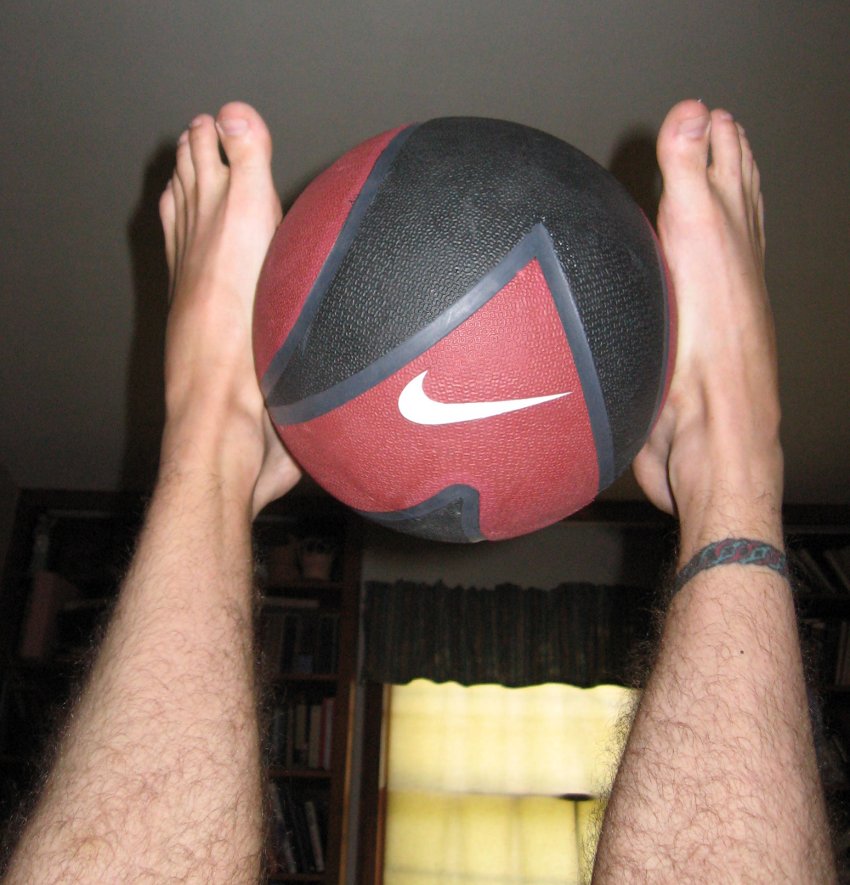 ---
Tue. December 28, 2010 - If at first you don't succeed?

In my first (recent) attempt to work through Brungardt's abs program, I fell off the program last July during Week 3. I started again at Week 1 of Level 1 on 12/6/2010, this time with a workout partner, Jason. You can see all the workouts I have completed: The Fitness Train profile for Sruthan.

We have now succeeded in getting further than my last attempt, having finished Week 3, half way through Level 1, "The Foundation." The workouts increase in difficulty at what feels like just the right pace, staying challenging but achievable. I'm usually feeling a pleasant level of soreness in ab muscles and definitely noticing an improved firm abdomen. Visually, results are a little slow, but it has only been 3 weeks. I'm hoping to be able to show a picture with progress soon -- I definitely think it will show by or before the end of Level 1 (three more weeks).


---
Tue. January 18, 2011 - Today we started Week 6, the final week of Level 1 of Kurt Brungardt's ... abbs post being re-editted. ...


---
Mon. March 28, 2011 - The "bicycles" are an incredible workout for the abs. The Iron Gym "Total Upper Body" workout bar seems like money very well spent. ** Check the - Wed. March 30, 2011 post for photos and more on the abs exercise "bicycles." **

Jason and I have been progressing very well on our abs workouts. I have a lot to write about, and will get to that (AND photos!) more tomorrow. I have been busy with a lot of database and programming work for thefitnesstrain.com, but I'll get back to this blog and updating it this week and ongoing as we head toward ** Beach Weather ** yey! :)


---
Abs exercise: "Bicycles" - Hanging from work out bar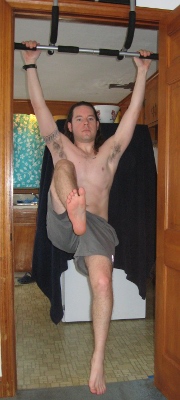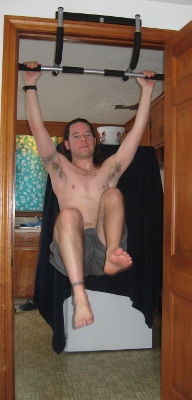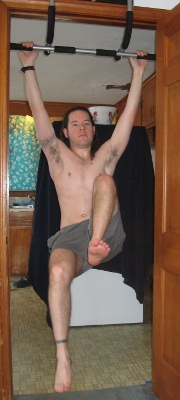 "Bicycles" is my favorites of Brungardt's ab exercises so far. You can totally feel your abs becomming ripped from this challenging movement. Hanging from a work out bar, you alternate pulling your left knee and then your right knee as high as you can toward your chest, feet passing each other at the midpoint, and continuing in a smooth "bicycling" motion. This is a great drill for the lower abs.

We have just finished Days 3 & 4 of Week 5 out of 6 of Brungardt's "Level 2: Bringing Out the Cuts" of the multi-level abs system. It definitely is bringing out the cuts, and I'll get some close up abs photos posted soon.

---
Fri. May 27, 2011 -

Abs Maintenance and Cutting
We've been repeating the workout Bringing Out the Cuts: Week 6, Days 3&4 of Brungardt's Level 2 Abs: "Bringing Out the Cuts." Brungardt says you can stay on a maintanence routine for a while to maintain your ab fitness level. I'm excited to move onto Level 3 ("Six Pack Abs") soon, but repeating this workout seems like a good advancement right now. A couple of weeks ago, it was a challenge to finish the reps, even if not every rep was full-range-of-motion top quality. Now, after a few weeks, I feel very controlled in the motion, isolating the muscles, and holding the contraction. Especially without external resistence, holding the exercise at the top of the motion for at least two seconds really helps build definition. So by repeating this workout for a few weeks, I feel like I have seriously gained in technique.

I've also been getting some cardio, though with a week off here or there. Raced a 5K (3.1 mi) in Manchester, CT on May 15. And I've been running 10-20 miles a week or so lately. I ran 5 miles today.

Well, it's Memorial Day weekend, so a bit of "showtime" even if I am not as cut and thin as I hoped. I'll probably be at a beach of some sort, and I promise to post an abs photo here too. Have a great weekend, and my gratitude to the men and women who have served and are serving the cause of freedom.

---
Ready for peaking cycle
Lots of people look more cut than they did a year, 2 yrs, or more before. Rafting in North Carolina used my abs in very real-world ways.

Still 'perfecting' Abs Bringing Out Cuts: Week 6, Days 3&4

---
Now is the time to work on the beach body!
After the last peaking cycle (June 2011), we took a couple of months mostly off of abs workouts with a little maintenance and a lot of cardio. This seems to have been a good plan.

About a month ago we started back up with workout: Abs Bringing Out Cuts: Week 5, Days 1&2 . I can tell my form and range of motion are much improved since the last cycle, and I'm really feeling able to nail each rep hard. I'm definitely seeing good results too ... In a couple more weeks I think it'll be very obvious in a photo, so I'll get out a new abs pic then.

We do now have good instructions and pics for the exercises! Check out:
Seated Knee Raises (abs)


Hip Raises (abs)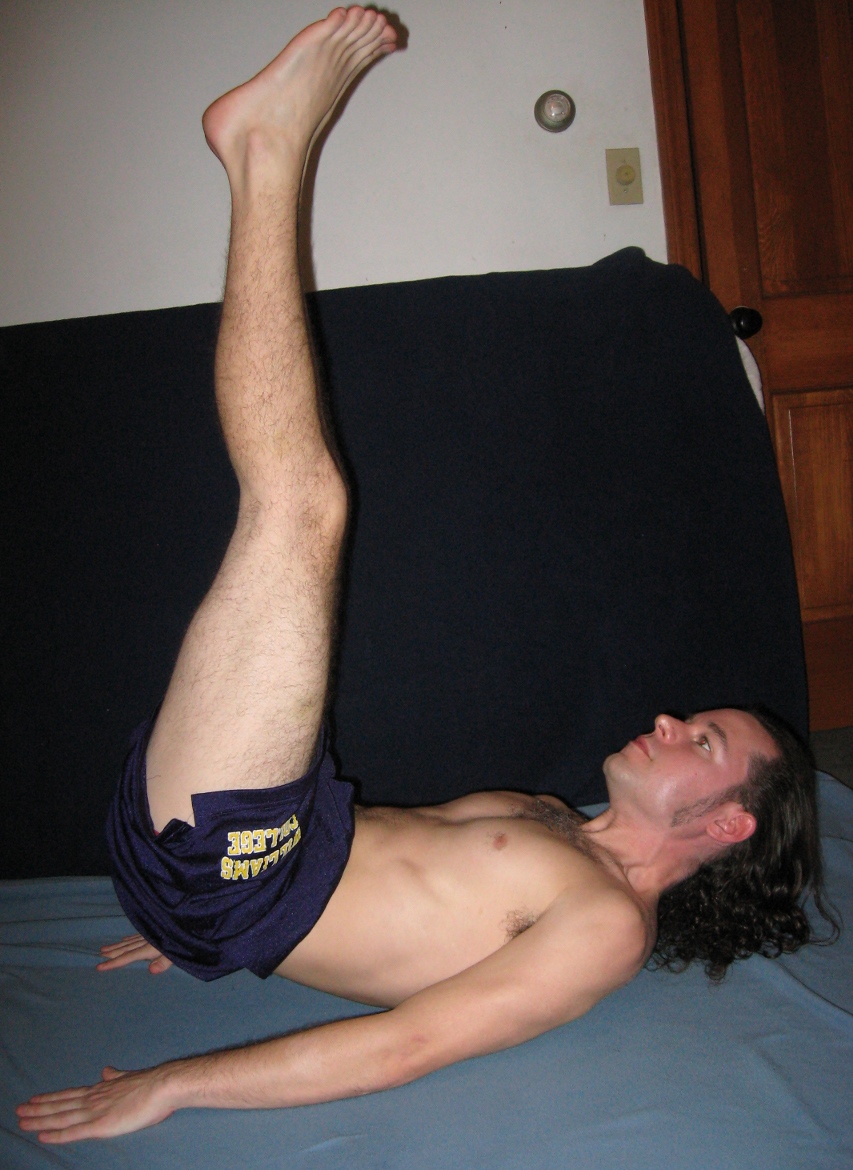 Bent-Leg Hip Raises (abs)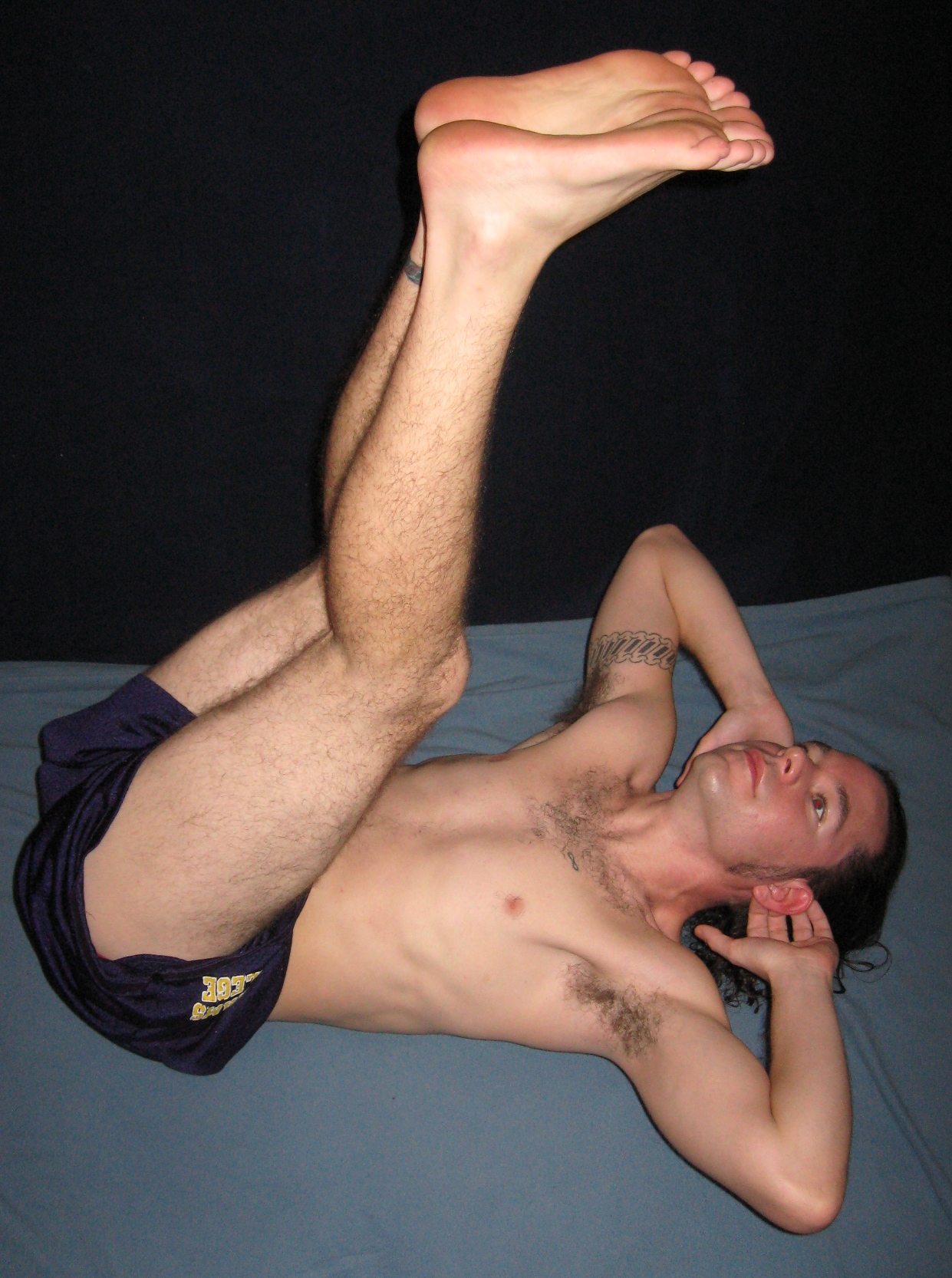 Bicycles (abs)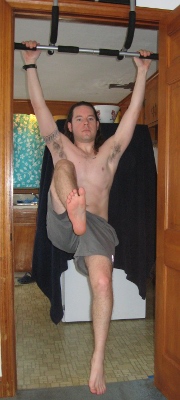 Modified Side Jackknives (abs)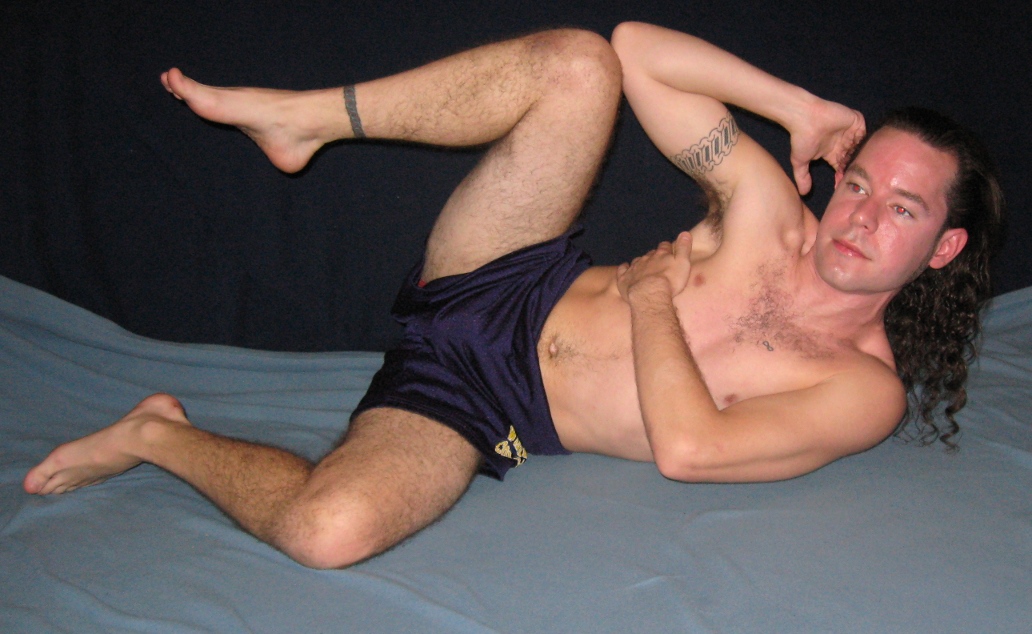 Crossovers (abs)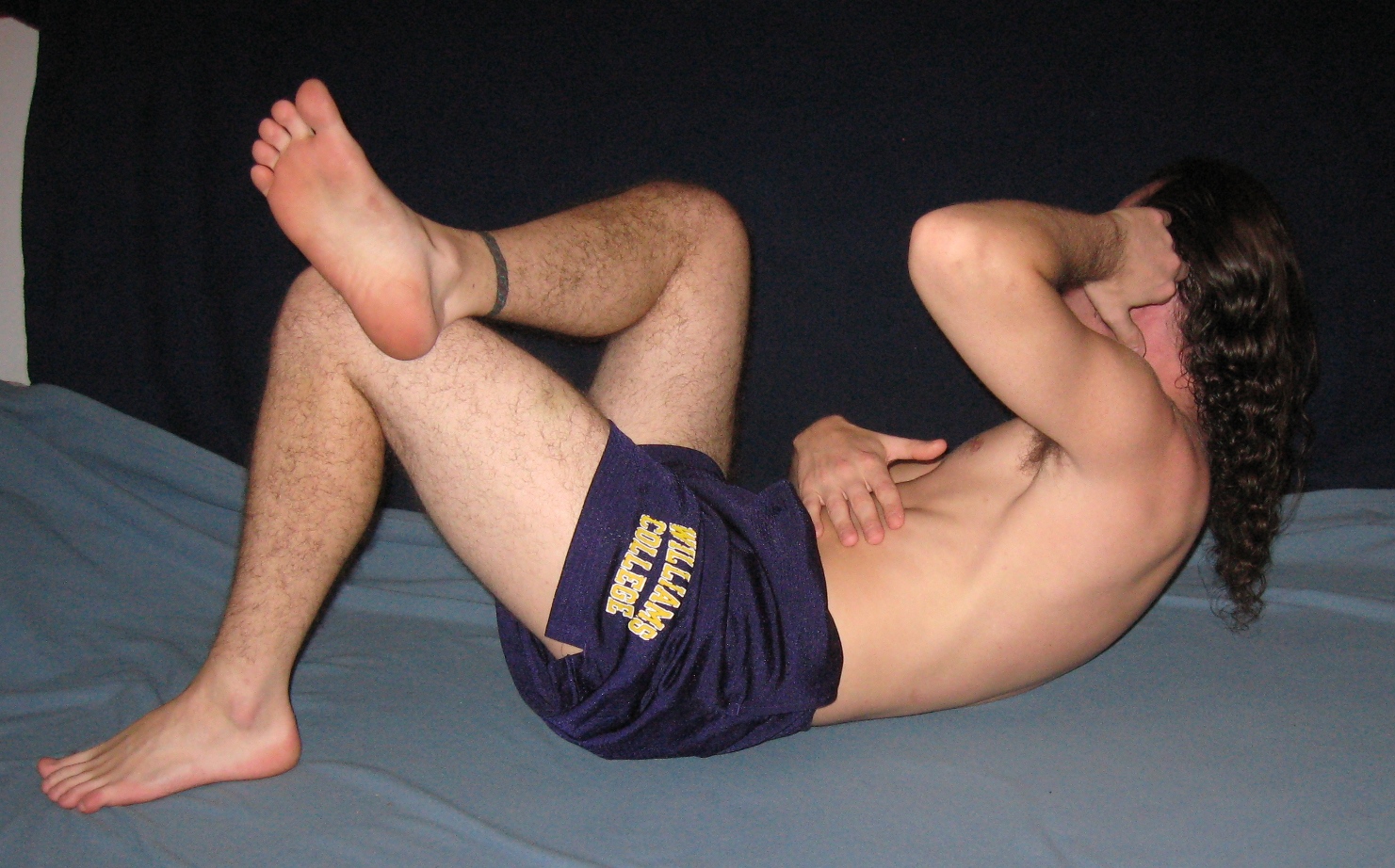 Toe Touches (abs)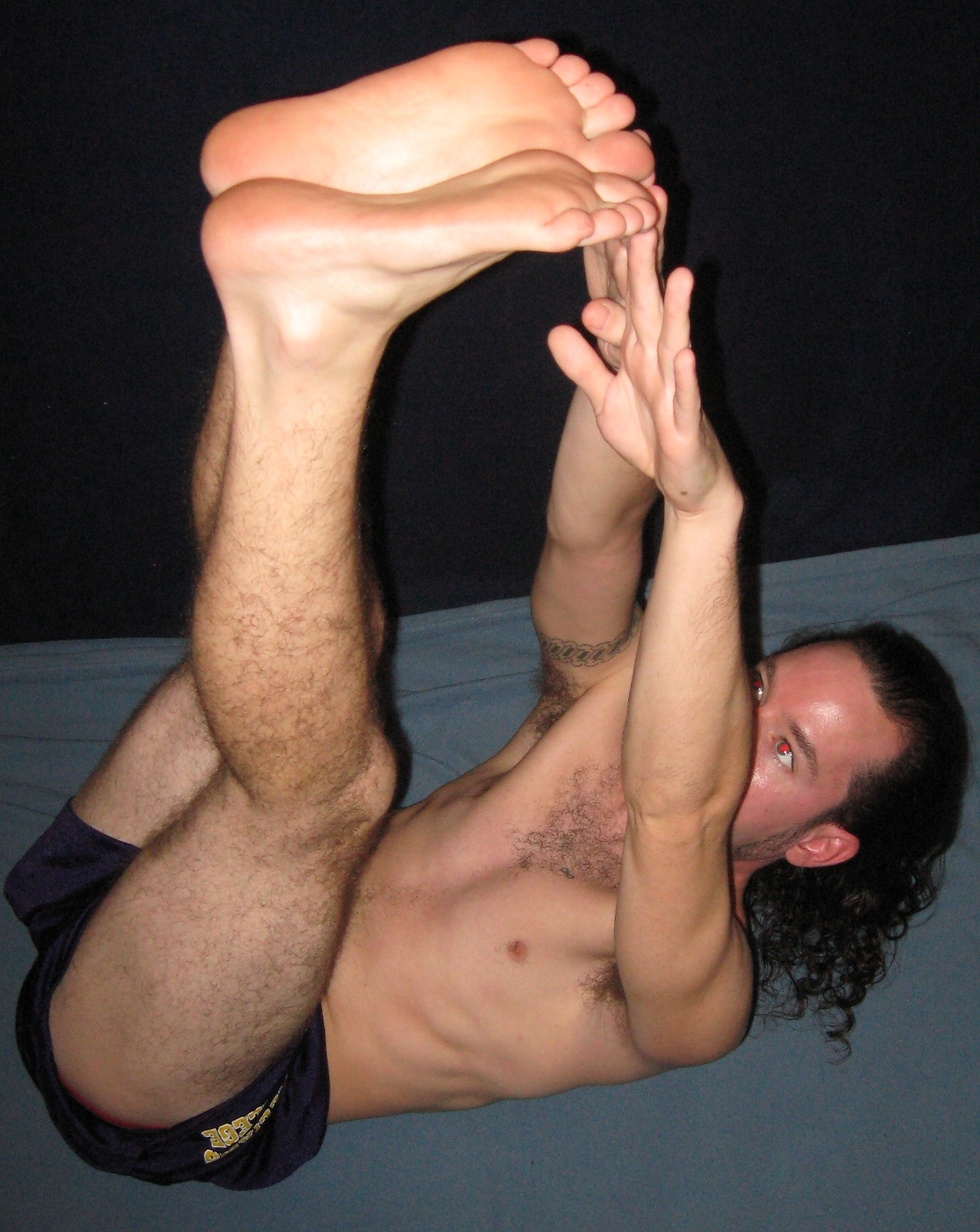 Crunches: Bent Knee (abs)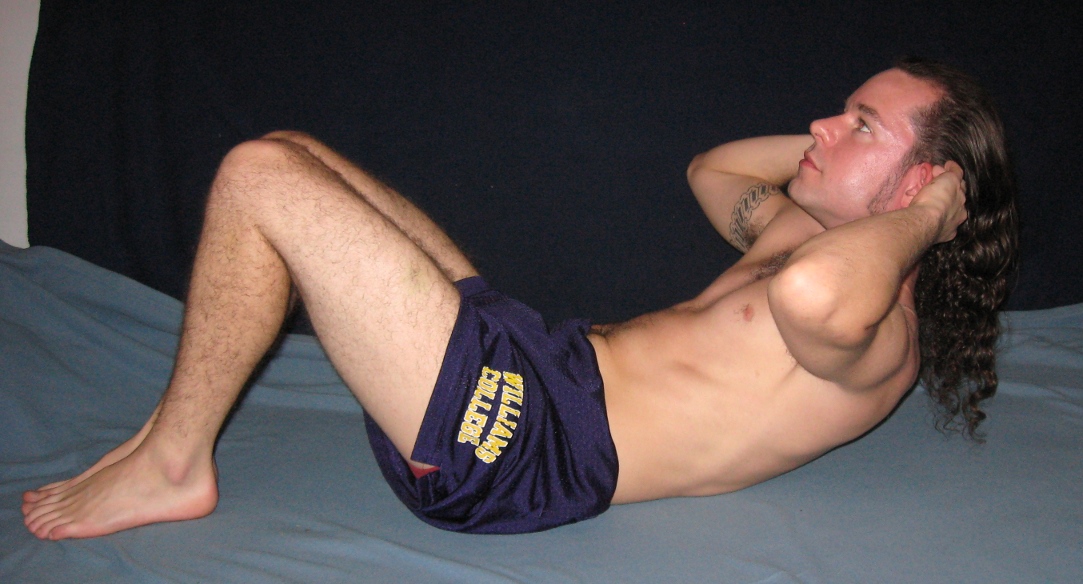 Crunches: Frog Legs (abs)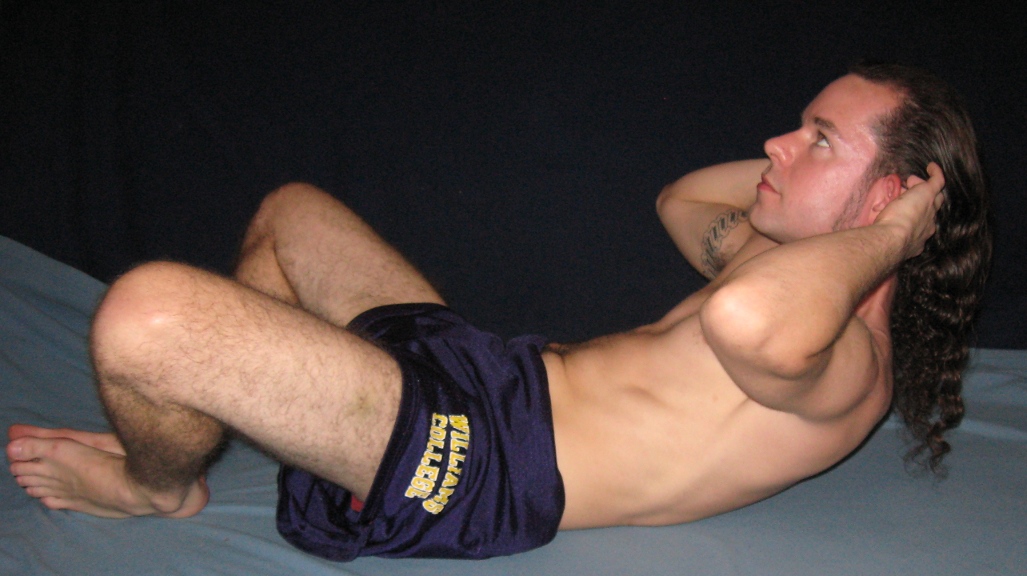 ---


Tags: abs, complete book of abs, work out for the abs, abbs, abdominal muscles, how to get a six pack, photos, pics, crunches, home training, get definition, strength, fitness, workouts, barefoot, stomach exercises, abdomen
<< Back to The Fitness Train Community
---